All eyes will be on France this week as the FEI WBFSH Eventing World Breeding Championships for Young Horses get underway at Le Lion d-Angers tomorrow (Thursday 21 October).
We discover more about the British representatives who have been selected to compete at these prestigious Championships, including a special preview from the connections of two super young horses that will be flying the flag for British breeding…
7-YEAR-OLD CHAMPIONSHIP
In alphabetical order by rider, the horses selected to represent Great Britain in the 7-year-old Championship are:
Evita AP (Con Air x Elektra) owned by Brett Bullimore & The Seahorse Syndicate and ridden by Sarah Bullimore
Outback II (Duke Of Hearts x Only Six) owned by Christopher Clementi, Diana Chappell & Yogi Breisner and ridden by Laura Collett
Heads Up (OBOS Quality 004 x The Show Girl) owned by Catherine Witt & Hayden Hankey and ridden by Hayden Hankey
Caunton First Class (Amiro Z x Violetta) owned by John Peace and ridden by Matthew Heath
MHS Brown Jack (OBOS Quality 004 X Gowran Lady) owned by Fred and Penny Barker and ridden by Tom McEwen
Cooley Snapchat (Kannan x X Anabee Arkansas) owned by Mr & Mrs William Rucker and ridden by Selina Milnes
Rehy Revelation (ARS Vivendi x Drumbane Lady) owned by Margaret & Simon Hope and ridden by Jack Pinkney
Templar Juno (Templar Spirit x Rubinesque) owned and ridden by Katie Preston
Codebreaker (Cody X Dolce Vita K), owned by Eliza Stoddart with Heather Sandell, Georgina Stoddart, Sue Brankin Frisby and ridden by Eliza Stoddart
Johan Some (Lexicon x Rolanda Z) owned by Linda Allan and ridden by Gemma Tattersall
Cooley Rules (Beach Ball x Kildalton Poppet) owned by Caroline Wilson and Jean Shipp and ridden by Izzy Taylor
Cooley Rosalent (Valent x Bllaney Jewel) owned by Paul Ridgeon and ridden by Oliver Townend
Focus on British Breeding – Meet Templar Juno

Templar Juno taking in the sights at Le Lion d'Angers earlier this week
Rider: Katie Preston
"I bought Templar Juno as a yearling. I'd purchased another one from the Templar Stud before, [Templar Justice] my top horse, so I went back there to get Juno. I really like that they use proven mares as well as stallions," explained Katie, when she spoke to us earlier this week.
"Juno wasn't the one I went to look for. They had a load of phenomenal yearlings but when they trotted round the field she moved beautifully. Then they all had a gallop and she was the one that went straight to the front and was like, 'Yeah, I can gallop too' and I thought, 'I like her!'
"I didn't really have a preference of mare or gelding – I've had good mares and I've had good geldings – but Juno just stood out to me. She is super laid back, super cuddly and just a real cutie. She is so easy to do everything with, she's like the dream really. She is a very talented horse and able to do a nice dressage test."
Katie hopes to be able to showcase these qualities this week. "I would love to show her off and let everyone see how good she is," she said. "We went on a little hack this morning and saw glimpses of the course here and it is as beautiful as ever. They just put so much effort into the fences – every fence is beautifully carved. It's just so exciting to be back.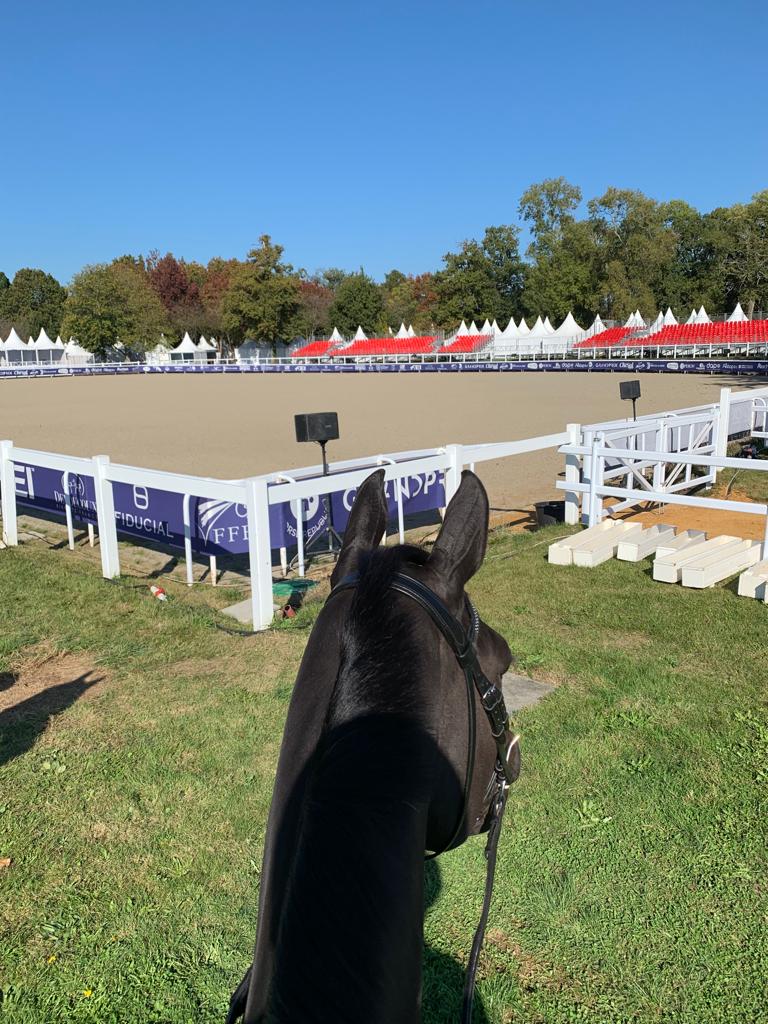 Getting acquainted with the arena
"I haven't been to Le Lion since I came here with my last horse, and I won't be here again for many years, as I tend to only have one horse at a time – so, I am trying to just enjoy the moment of being here this week."
With a bit of luck though it won't be too long before Katie gets the opportunity to return, as she has big hopes from her own breeding project. "I'm a vet myself, so we've taken several embryos from Juno. I've got a yearling out of her, a foal, and a couple more due next year. The two we've got so far are both really lovely foals. It's really exciting to have some offspring from her to hopefully carry on and be my next superstar."
Breeder: Amanda Rolphe, The Templar Stud
"We're incredibly proud and excited that, for the second time, Katie is taking one of our homebred Templar Stud horses to the young horse championship at Le Lion," said Amanda.
"Katie bought Templar Juno as a yearling based on the bloodlines we were breeding at the Stud and Katie's eye for a good young horse. She has produced her from scratch, so has a lot to feel proud about.
"Templar Juno is a daughter of our British thoroughbred Hand in Glove stallion Templar Spirit, so it's exciting for us to see his exceptional pedigree producing another talented and exciting event horse for the future. We'll be rooting for Katie and Juno this weekend."
6-YEAR-OLD CHAMPIONSHIP
Three combinations will be representing Great Britain in the six-year-old Championship. In alphabetical order by rider, the horses selected are:
Pepper Poldark (Peppermill x Alene) owned by Ridgeway Farm Stud and ridden by Caroline Harris
Special K (Up To Date x Gelayla D) owned by Alison Walton and ridden by John-Paul Sheffield
SBH Big Wall (Puissance x Unanibeath) owned by Jane Timmis and ridden by Izzy Taylor
Focus on British Breeding – Pepper Poldark

Pepper Poldark and Caroline at the trot up
Rider: Caroline Harris
"I've had Pepper Poldark since he was four," said Caroline, speaking to us from Le Lion d'Angers earlier today. "He's a super exciting horse. He's got all the movement and he's so scopey, but he's also a very, very big horse. Last year as a five-year-old he was very weak, and I barely did anything with him. He would throw two or three really amazing, impressive jumps and then he'd get tired, so he didn't really show what he could do, but I knew he had it in him.
"This Championship was the slight aim in my head this year, but I was never going to over-run him to try and get the qualification to get him here. I've gone and done the events that I wanted to do, and thought were best for him, and he's answered all the questions. He's just gone beautifully and really stepped up and shown what a class horse he's going to be.
"I think he's just going to get better and better with age, strength and time. I think he's definitely one to nurture, to be looking at the big events in the future rather than just thinking about the here and now.
"I want to produce him to be the best horse he can be. In five years' time, I'd like to think he'd be a proper 5* horse – he's got all the scope and power and is a beautiful mover. I think this competition will be a great education for him. He's got to learn to cope with the big crowds, so now's as good a time as any. I'm more so going down the line of it being a really good educational week for him than thinking a top result – I just want him to go out and have a really good experience, so he'll come out next year better again.
"I think British breeding is hugely important. I've really enjoyed working with Becky and being able to showcase what we can actually breed in this country. Everyone always goes and spends thousands and thousands of pounds abroad when actually we do have the ability, with the right breeding programme like Becky's doing, to breed some really, really good horses over here. It's just lovely to showcase that we can actually breed really top horses."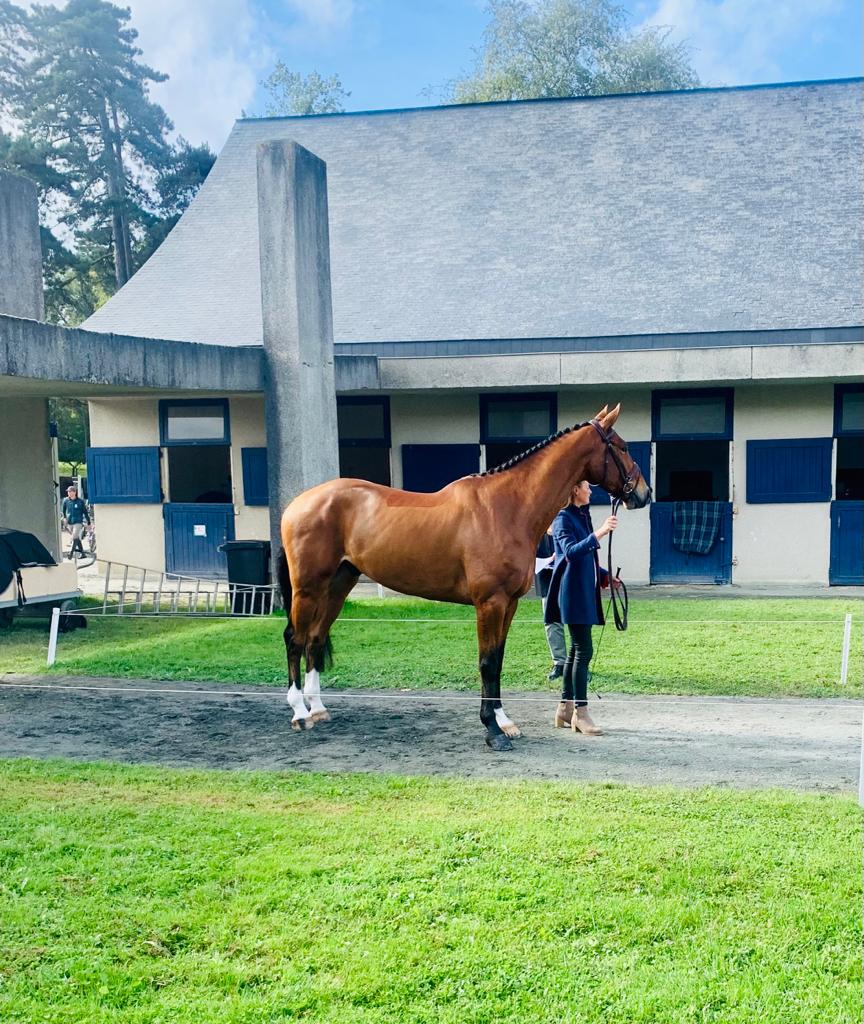 Pepper Poldark and Caroline ready to trot up at Le Lion
Owner/Breeder: Becky Stones, Ridgeway Farm Stud
"The World Breeding Championship is very prestigious and it is highly significant for us to have one of our horses competing," said Becky. "I am completely and utterly delighted that my special boy has been selected, especially as he is truly 'home grown'. He is a very big horse and so we have had to take things very slowly with him. He stepped up quickly later this season and was a joy for all of us at team Ridgeway Farm Stud and, of course, for Caroline.
"I have used my own stallion Peppermill for say 90% of my breeding. He is the horse of a lifetime for me and I believe in him completely as a breeding stallion. He always brings out the power, bravery and a great attitude to the sport every time and we have seen these qualities in all of his foals. I have four eventers by him in training with Caroline and I think they all have great potential.
"The dream is always to be selected for the British team and to perform really well… the Olympics being the pinnacle. Pepper Poldark's sire Peppermill was a world class show jumping stallion in his day and I would love to see Pepper Poldark follow in his footsteps. A medal one day for one of his youngsters would be the fulfilment of my dream. I do believe Pepper Poldark and Caroline together have Olympic potential one day.
"I love breeding horses. We have three stallions (Peppermill, Cabo Verde and Vincent) at the moment where we are looking to breed with all three. Our aim is to breed top athletes but also to breed horses who have long and successful careers and from the moment they are born, our foals benefit from our Ridgeway Farm Stud horse management and later in life the training programmes we have tailored for every horse.
"We are very focussed on the best quality nutrition, best in class health protocols combined with relaxation time and being a horse. We have a lot of horses at the moment and Pepper Poldark is such a promising youngster – I see Peppermill's best traits in him. Based on the excellent performances of Pepper Poldark and Miss Pepper Pot so far this year (best mare at Blenheim), I am hoping they will have a successful 2022 so that I can continue the eventing breeding programme. I am addicted after all!"
Becky believes these Championships at Le Lion provide an invaluable showcase for British breeding. "I think it's very important that British breeding has a significant presence in the international equestrian arena," she said. "It is excellent to profile the British breeders who are doing well with their horses and for us to all encourage each other. Breeding and producing horses to the top level is a labour of love with so many challenges. This sort of recognition is such a boost for the entire team."