A huge and competitive field set out to contest the fourth Novice Masters class of 2021 at Weston Park, with Jess Falle and her own, Furich Tejo taking the win at the season finale.
The Novice Masters is an initiative introduced by British Eventing, which aims to provide riders competing at Novice level with an achievable new goal. It has proved to be extremely popular and seen some great sport across the four classes held this season.
More than fifty riders pulled on their tails and set off down the 60m centre line to do their bespoke Novice Masters dressage test in the class at Weston Park. The first combination to go was Roxi Foster and Dalsaans Hasty Prince, who had travelled all the way from Cornwall to the Shropshire venue. They posted a score of 34.4 which, after adding no further penalties throughout the competition, rewarded them with a fifth place finish and the BETTALIFE Best Veteran award.
By the end of the dressage phase a familiar name had risen to the top of the leader board – Harriet Ford and According to Archie, the combination who won the inaugural Novice Masters class at Barbury back in July and finished second at Little Downham the following month. Their score of 27.4 secured them the BETTALIFE Best Dressage prize and left them in pole position heading into the show jumping.
The Novice Masters show jumping is run at Intermediate Novice height (1m15) and the course builder, Sue Barrett, had set a testing track that required accuracy and forward riding. The show jumping has proved to be influential in each of the classes so far and this fourth competition was no different. A pole for Harriet dropped her down to second, whilst a lovely clear from Jess Falle and Furich Tejo moved up them up into the lead from fourth place. Clear rounds also moved Fiona Dallyn and The African Queen up to third, Victoria Devlin and Gamble V into fourth and Roxi Foster and Dalsaans Hasty Prince into fifth at the end of this phase.
Janet Plant and her team had produced a super track for the cross country, making use of the rolling parkland and trees, with some good skinny combinations and plenty of challenges to be answered. With not much separating the riders at the top of the leader board, there was little room for time penalties. This turned out to matter little though, with all of the top five riders clear within the time.
Jess Falle completed on her dressage score of 30.7 to take the win Furich Tejo. Harriet Ford and According to Archie added a second, second-place finish to the win they enjoyed at Barbury and Fiona Dallyn and The African Queen completed the podium in third.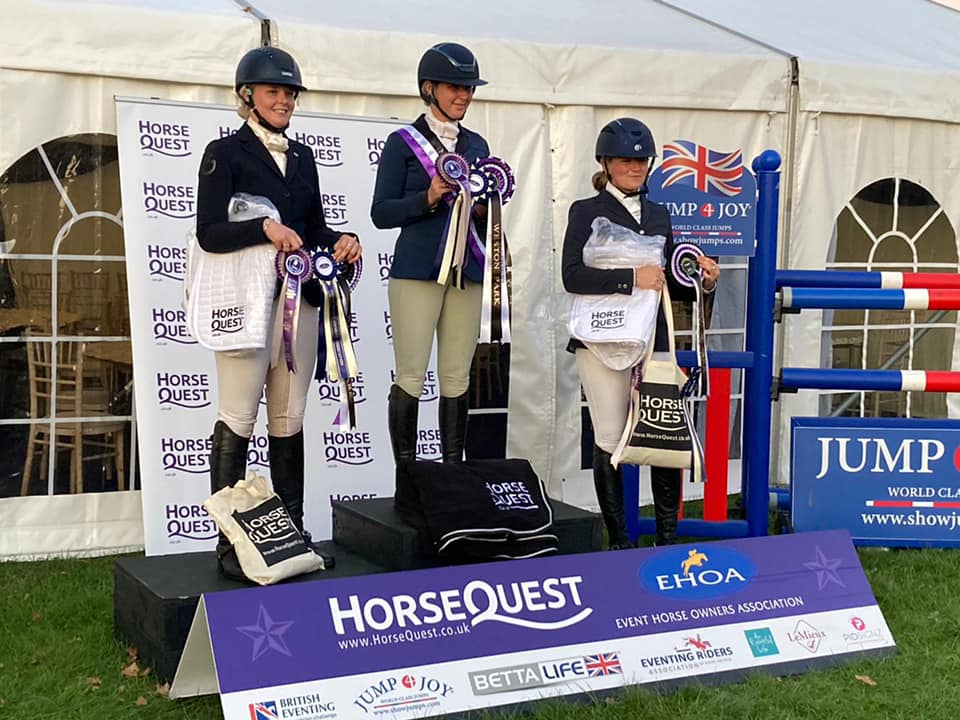 "I absolutely love Weston Park, it's one of our favourite events," said Jess. "We always try and come back every year. Earlier this year we competed in a blizzard, so Sunday's beautiful weather was a major bonus!
"This was my first time doing the Novice Masters Series as TJ has been injured for most of the season. The cross country was great and the ground was perfect. The format of the Novice Masters Series really suits TJ because dressage and show jumping are his strongest phases.
"I would definitely recommend this class as we love the championship feel and is so well supported by all the generous sponsors. The prizes were amazing and I'm really looking forward to spending my Jump 4 Joy voucher.
"After a difficult season with some frustrating results, it was great to end on a high with our first win in three years in such a fantastic class."
Our winners at Weston Park included:
Samantha Brown received a voucher from Equireel to purchase her video for being "bang on" the optimum time with Spirit LSS
Imo Brook received prizes from horsehealth.co.uk for being the Highest Climber, moving up 25 places after dressage to finish 12th with San Solo
Roxi Foster's mount Dalsaans Hasty Prince was the best placed veteran horse (16 or over), receiving a joint supplement and goody bag from BETTALIFE
Harriet Ford received goodies from BETTALIFE for the best dressage, she posted a score of 27.4 with According to Archie
Harriet also won the £50 bonus courtesy of the EHOA – The Event Horse Owners Association for being their best placed member
Jumping for Joy!
All riders who had finished first to sixth in one of the four competitions throughout the season were entered into a prize draw to win the Jump 4 Joy show jumped that has been jumped in the show jumping rounds. Representatives from the BE Rider Working group, Tara Williams, Trudy Johnson and Sarah Beadle, organised the draw (which was held live on Facebook after this final competition had ended).
The lucky winner was Giorgia Burns, who had travelled all the way from Scotland to compete with Boss Lux at both Allerton Park (where they finished fifth) and Weston Park (where they were sixth). The team were delighted to help Giorgia load the jump into her lorry, ready for the journey back to Scotland! Congratulations to Giorgia and a big thank you to Jump 4 Joy in donating such a fabulous prize.